Code R500
See other products in applications
Featured with compact design,flexible operation, high accuracy vaporizer, R500 small animal veterinary inhalation anesthesic machine is widely applied in life science research, clinic for rats, mice, mouse, hamsters, guinea pigs, rabbits, cats and other animals within 7kg.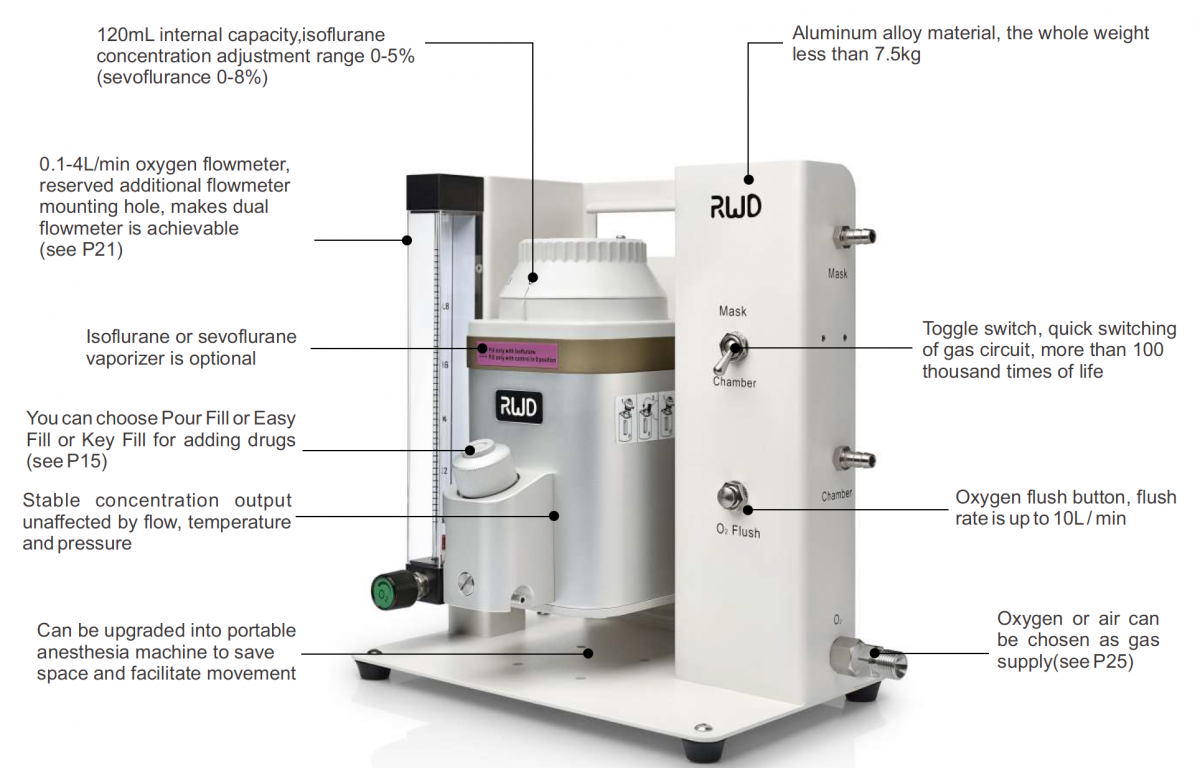 Space-saving design, simple operation, flexible mobilization
Accurate oxygen flow meter, Flow control range: 0-1L/min and 0-4L/min available
High accuracy vaporizer (Each one has an independent test report)
Gas toggle switch, button switching gas path, more than 100,000 times of service life.
Quick oxygenation switch to remove residual anesthetic mixture in the tube or anesthesia induction chamber.
Oxygen or air can be chosen as gas supply.
Easy Fill, Pour Fill, Key Fill for adding drugs is optional.
Components
Standard system components
Regular assembly
Vaporizer
Inlet/Outlet end caps
Tube accessory kit
Extend system with following add-ons
Different air supply
Induction chambers
Anesthesia masks
Filter canisters
Gas evacuation apparatuses
Models
| Product name | |
| --- | --- |
| R500IE Compact Small Animal Anesthesia Device-Isoflurane, Easy Fill, 0-4L | Get quote |
| R500IP Compact Small Animal Anesthesia Device-Isoflurane, Pour Fill, 0-4L | Get quote |
| R500IK Compact Small Animal Anesthesia Device-Isoflurane, Key Fill, 0-4L | Get quote |
| R500SE Compact Small Animal Anesthesia Device-Sevoflurane, Easy Fill, 0-4L | Get quote |
| R500SP Compact Small Animal Anesthesia Device-Sevoflurane, Pour Fill, 0-4L | Get quote |
| R500SK Compact Small Animal Anesthesia Device-Sevoflurane, Key Fill, 0-4L | Get quote |