Code 3110
The 3110 formula is a cereal- (soy, wheat, corn) and alfalfa-based fixed formula which is free of fish/animal meal and deficient in nitrosamines. This long-term breeding diet is rich in crude fibre and was designed as complete feedingstuff for breeding adult guinea pigs and young guinea pigs up to an age of 10 weeks. Addition of hay is recommended.
Read more about product
Product variations
The 3110 formula is optionally also available in one or a combination of the following variants.
Variant Fortified - autoclavable, increased vitamin content, coated on request
Variant Irradiated - irradiated with 5 to 50kGy
The contents may vary for these variants.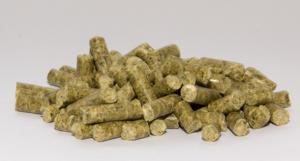 3113 - 4mm pellets
The standard form of this diet is the 4mm pellet.
Specifications