Code SS-01
Innovative low-flow anesthesia delivery system designed specifically for mice and rats. Unlike traditional vaporizers, the SomnoSuite is engineered with a precision syringe pump and integrated digital vaporizer which uses either room air or compressed gas to deliver anesthesia at low flow rates proportionate to the animal's size. Using less anesthesia not only benefits the animal during procedures, but significantly reduces the risk of exposure to lab personnel from waste anesthesia gas.
Read more about product
See other products in applications
Integrated digital vaporizer. Auto calculates flow rate based on animal weight
Built-in aircompressor. Uses room air or compressed gas
Flow rates from 25 ml to 1 l. Saves money by using less than 1ml of isoflurane/hour with typical use
Intuitive touch screen control. The easy to use multi-parameter touch screen display shows vital signs
Safer for the animal. Digital dial control for precise delivery and safety
Safer for the technician - with such a small amount of anesthetic and oxygen used there is very little waste gas exposure risk
Induction chamber flush. Minimizes waste anesthetic gas exposure
No servicing orcalibration needed. Cost-effective, reliable equipment
Easily integrates into stereotaxic setups. Use your own anesthesia mask or use one of ours
Modular capability. Select modules for a variety of functions
Smaller footprint. Significantly smaller footprint compared to traditional vaporizer and stand, further reduced by combining additional modules including rovent and mousestat
Multi-animal capability. Greater efficiency – our clinical department will be pleased to review your study protocol to confirm that our product will meet your specific study requirements
Real-time recordings
5 safety alarms
Lab Chart compatible
Less use of anesthetic gases
The SomnoSuite is specifically designed to be used with mice and rats. It is pre-calibrated for use with both isoflurane and sevoflurane. Typical "human-sized" vaporizers on the market today waste more anesthetic gas than you would actually use in a given procedure. Using the SomnoSuite during a typical 30-minute procedure at a gas concentration of 2.5% isoflurane results in using less than .3 mL of isoflurane! It is capable of anesthetizing up to 2 mice simultaneously. The internal pump allows you to use room air or you may hook it directly to a compressed gas source. If you need to anesthetize more than two mice or multiple rats, check out our traditional multi-animal systems , capable of anesthetizing up to 6 animals.
With the RoVent Automatic Ventilator add-on module , the vaporized anesthetic is delivered directly to the animal along the inspiratory line coming from the ventilator. This close proximity of the vaporized gas to the animal's lungs allows you to use far less anesthetic than traditional vaporizers, which require hook-up on the back side of the ventilator.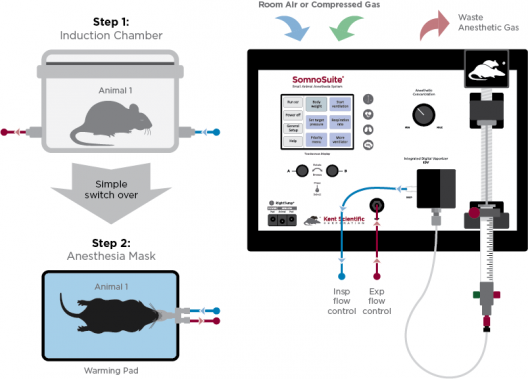 Specifications
Low-flow anesthesia system SomnoSuite®

Flow rate
0 to 1 l/min
Two modes
Vaporizer: internal pump or compressed air
Max. pusher force
Greater than 36 kg
Carriage position detection
+/- 0.2 mm
Anesthetics
Isoflurane and sevoflurane
Multi-animal capability
Yes
 

Temperature monitoring & homeothermic control module RightTemp®

Resistance
2252 ohm
Tolerance
+/– 0.2°C
Accuracy
25°C to 45°C
Operating temp.
–40°C to 80°C
Sensor diameter
Ball tip diameter: 1.65 mm max
shaft: 1.5 mm
Time constant
10.0 sec.
Dissipation constant
0.75 m/w (°C)