Code EasyCage
The EasyCage not only satisfies all of the traditional requirements of disposable caging, it also provides the added benefit of working seamlessly with the same NexGen Mouse IVCs that have been the industry standard for years!
Read more about product
See other products in applications
How EasyCage works?
All EasyCages come double-bagged, irradiated, and ready to use right out of the box
Once assembled, EasyCages can then be placed directly into a NexGen Mouse IVC and used immediately
When finished using, bedding is discarded and the cage can then be recycled or disposed of. With no post-use processing necessary, putting cages in to and out of use couldn't be any easier
Benefits of use
Because the EasyCage removes the need for washing and autoclaving equipment, facilities can eliminate these capital expenditures and reduce operating costs associated with labor, energy use, and water consumption. In addition, because the EasyCage works with NexGen IVCs, the smooth docking operation of the NexGen eliminates repetitive strain injuries that can result from cage washing and processing activities. Lastly, and as with all of our IVCs, the EasyCage employs Allentown's industry-leading Air at the Cage Level airflow system, which produces lower levels of pressure and ammonia, promotes higher oxygen levels within the cage, reduces leaks and energy consumption, and contributes to positive animal welfare.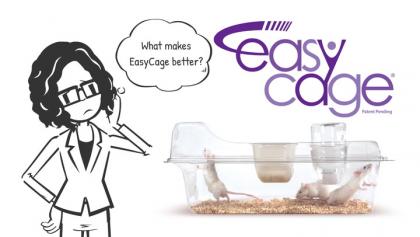 The NexGen advantages
In addition to the tremendous value the EasyCage can provide to your facility and your research as a cage system, it also has the added benefit of backwards compatibility with our NexGen Mouse IVCs. Allentown offers both reusable and disposable housing solutions...meaning we won't try to steer you towards one solution over the other. You can count on Allentown being a true partner, providing the best, most cost effective and efficient housing solutions for your staff, your animals and your research.
Components
Standard system components
Recyclable PVC cage bottom (floor 500 cm2 or 912 cm2)
Recyclable PVC, BPA-free bottles 300 ml
Recyclable PVC cardholders
Feeders (stainless steel)
Plastic, recyclable PVC lids, BPA-free (2 options to choose)
Nestpak - 3 in 1 solution: bedding, nesting and enrichment
Models
| Name product | |
| --- | --- |
| Plastic cage bottom (empty or with Nestpak) - 50 pcx/box | Get quote |
| Bottles water filled - 20 pcx/box | Get quote |
| Bottles empty - 96 pcx/box | Get quote |
| Feeders: plastic with aluminum grate - 100 pcx/box | Get quote |
| Plastic lids - 100 pcx/box | Get quote |
| Plastic cardholders - 100 pcx/box | Get quote |