Code LAB 610 G2
Capacity up to 192 pieces of 100 ml bottles!
The LAB 610 G2 is a large-capacity front loading glassware washer to meet the needs of medium-size facilities. This unit is capable of injection washing and drying up to 3 baskets at 4 different levels, providing maximum flexibility through multiple chamber configurations depending on the height of loaded items. Thanks to an intelligent use of space with the SmartLoad system, capacity has been increased by more than 50% when compared to the previous model. 
With a variable-speed pump, circulation pressure and water consumption is optimized to individual loads. Steelco laboratory washers offer versatility, safety, high performance, and process traceability with low total life costs.
Read more about product
See other products in applications
Key advantages of LAB 610 G2 laboratory glassware washer
Up to 3 baskets (on telescopic runners) at 4 different levels
Chamber volume 270 litres
Load volume 241 litres
Depending on the utilities available, Steelco glassware washer LAB 610 G2 can be configured for:
electrical heating,
indirect external steam heating reducing overall electrical power supply need,
mixed heating allowing switching from steam to electrical heating as a backup solution.
An optional built-in water softener can be added in case of poor incoming water quality or busy laboratories.
The washer is suitable for vented room or not vented room with steam condensing options.
Eco Friendly Effciency
Steelco laboratory washers are engineered to offer best-in-class solutions for reducing energy and water consumption, giving users the lowest operating costs per load.
Speed is important - Optimized Washing Process Speed
Steelco focus is to provide customers with the fastest possible washing processes depending on the amount and type of soil.
Check LAB 610 G2 options for time and energy saving (see page no. 19 in brochure here).
Process under control - Flexibility, Control & Connectivity
The high-quality colour touch display, in combination with Wi-Fi and Ethernet connection, ensures intuitive operator interaction and excellent control over the washing process. In addition, SteelcoData Live allows remote visualization of both real-time and historic device performance data.
Washing Carts Customizable
Whether you need to wash small or large glassware, or a combination of both, loading racks can be configured to meet your specific needs with modules ranging from 8 to 32 injector nozzles.
Loading Configuration Flexibility
Maximum flexibility is combined with intuitive use. The improved SmartLoad Plus system allows more flexibility with the availability of up to three loading levels simultaneously. In addition, loading is made fast and easy with a wide range of standard and configurable loading options.
SimpleLoad System of glassware washer LAB 610 G2
Glassware loading is flexible and very comfortable thanks to new injection nozzles, new plastic supports, injection modules, increasing the laboratory washer's load capacity.

Glassware positioning is easy, quick. The glassware are centred on the nozzles.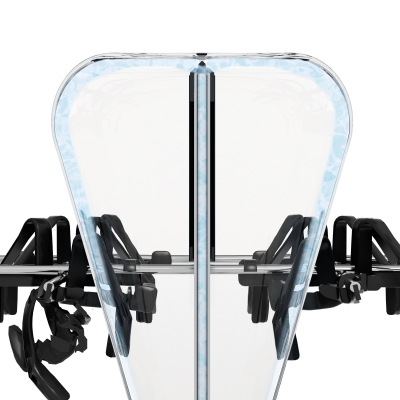 During the wash cycle, the supports ensure the best cleanliness avoiding alterations to the glassware, such as scratches.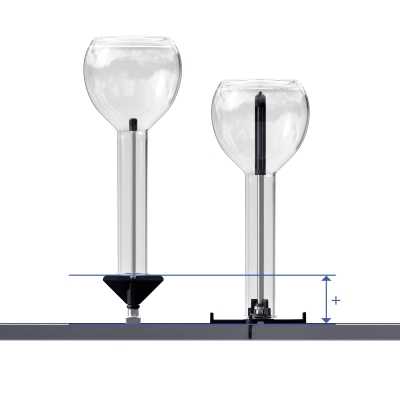 Support nozzles help to maximize the load height, increasing your available space inside the chamber.
SmartLoad System of glassware washer LAB610 G2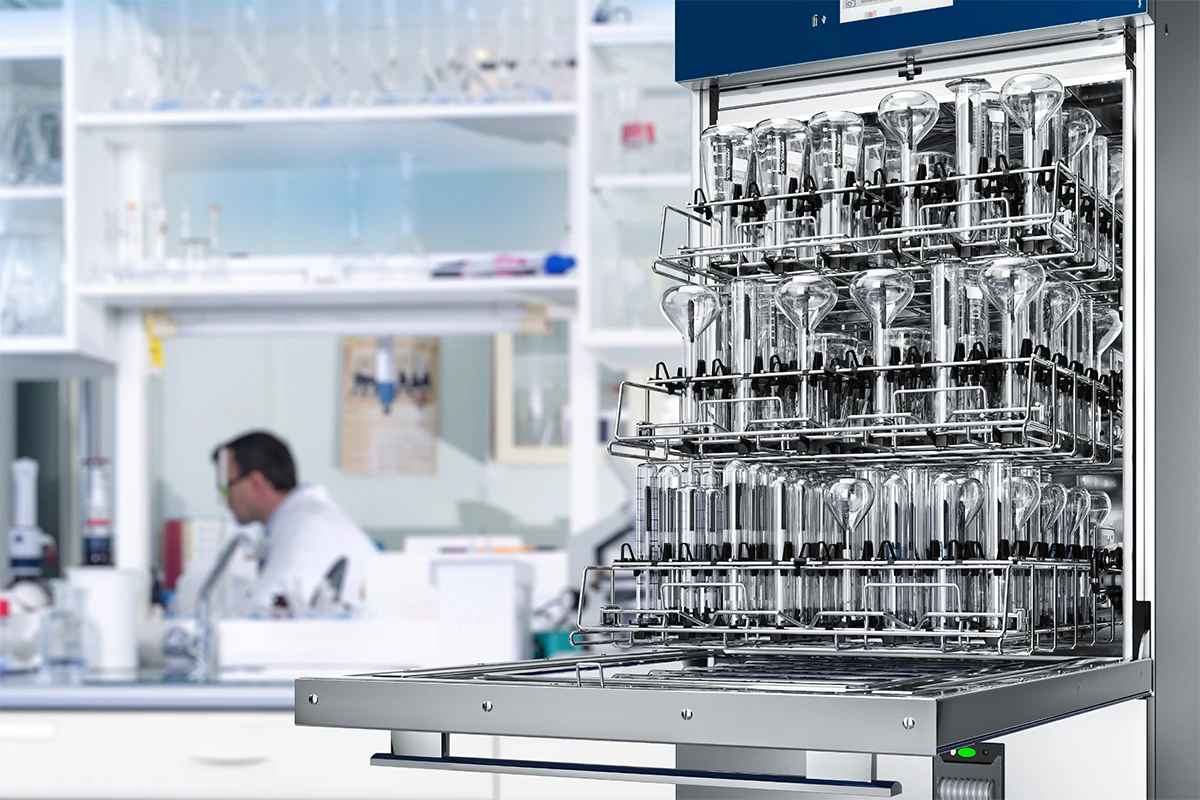 Space-saving innovation to increase a washer's versatility and capacity. Thanks to this loading method, the position of the wash levels can be adapted flexibly to the height of the wash load, the higher level being loaded up to a height of 630 mm. Telescopic runners in the wash cabinet make it even easier to load and unload items.
System allows the use of up to three baskets on telescopic runners which can be flexibly positioned and connected to the water circuit at four different levels. This allows various combinations to accomodate a variety of different load heights.
Wide range of modules variety of baskets for glassware washer LAB 610 G2
Depending on the need to wash large or small laboratory dishes, the Lab 610 G2 dishwasher's wide range of modules provides excellent flexibility, with the ability to personalise the load in the best way. In fact, the modules are configured to maximise loading. For this reason, modules from 8 to 32 injector nozzles are available.