Introducing Phantom2, the latest innovation in animal transfer stations from Allentown! The Phantom2 expands upon everything that made the original Phantom great, with improved ISO Class 3 airflow, the new Active Barrier ContainmentTM (ABC) system, technologic and ergonomic enhancements to improve ease of use, lighter weight, a variety of optional features for added convenience, and so much more!
ISO class 3 airflow
While the original Phantom provided ISO Class 4 airflow – 10 times the level of air cleanliness than most units
at that time – the Phantom2 employs double HEPA filtration to provide ISO Class 3 airflow,
once again 10 times the level of air cleanliness than ISO Class 4!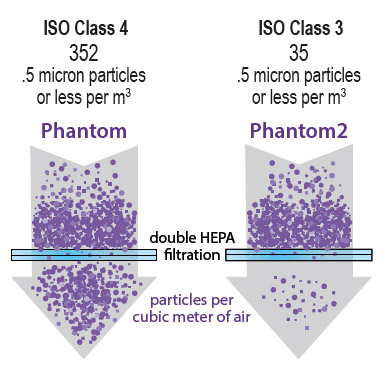 Active Barrier Containment
Protection of your research, your animals and your personnel is the main goal of animal transfer stations. To further this goal, and in addition to ISO Class 3 airflow, the Phantom2 also provides our new Active Barrier Containment (ABC) system, which uses an outside-of-sash air curtain barrier for increased work surface protection.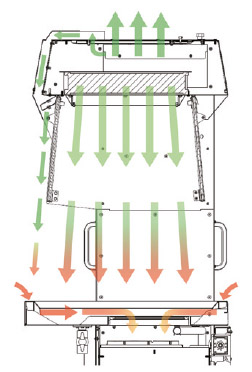 Ease of use
All the efficiencies in the world would have very little value if the end user has difficulty accessing or using them. The Phantom2 has expanded upon its already easy-to-use system with several major enhancements, beginning with a new colour touch screen that reads in eight different languages. From this screen users can program variable heights for the unit, dim or adjust lights (including the use of a new RED light mode), set ECO-modes for environmentally-friendly operation, and so much more! The Phantom2 also provides a larger work area beneath the sash, going from 356 mm to 406 mm of effective work space. 
A wide variety of options
The Phantom2 comes with a wide variety of techno-logic and ergonomic options that can make your cage change or animal procedures even more efficient and easy. These include a specially-designed Food Hopper, motion sensors for environmentally-friendly operation, moveable magnifying glass attachment for the sash,  a cage lid holder for the work surface, moveable 
"Anywhere" bumpers for damage-free transport,  foot rest and shelving, Trespa work surface attachment, and the option to work with one side of the unit sealed.
More room to work!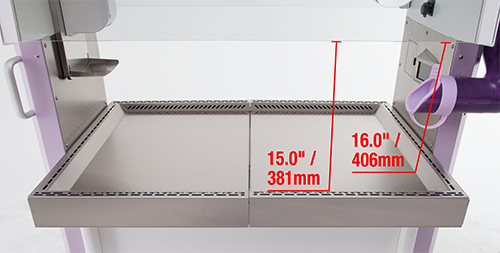 An increased work area opening height, together with a new dished-work-surface, allows users even more room to operate. More room means more comfort when using the Phantom2, making routine cage-changing tasks easier than before. Many other added convenience features such as the self-locking sash and hinged pre-filter retainer for easier access and replacement accentuate the Phantom2's overall design emphasis on ergonomics and the user experience.
Features and benefits
Safety & protection
•    ISO Class 3 airflow
•    Double HEPA filter design
•    Active Barrier Containment (ABC): Outside-of-sash air curtain barrier for increased work surface protection
•    Redesigned air diffuser
Easy of Use
•    Colour touch screen in eight languages
•    Dimmable lights (White 6000k + Red mode)
•    Programmable Lift Settings
•    ECO Mode for environmentally-friendly operation
Options
•    Repositioned glass sashes
•    Air exhausted at the top of the unit, away from dirt and particles near the floor
•    All innovatively driven by a single, energy efficient, ECM motor
•    Expanded work area (now 406 mm)
•    Overall weight reduction (as much as 27 kg)
•    New handle configuration for better control
•    Reduced unit length
•    Moveable "Anywhere" bumpers for damage-free transport
•    Foot rest and shelving
•    Trespa work surface attachment
•    One-side access